Selay Construction Machinery Co.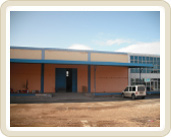 Our firm which is established in 2005 has been manufacturing and selling concrete batching plants, transmixers, concrete pump and their spare parts at its 1000 square meters premise which is located at Saraykoy / Ankara / Turkey.
Our goal is to sell products both at homeland and overseas by meeting quality requirement and the customer satisfaction.
Our products and services
Spare Parts
All necessary parts for our products are manufactured and kept ready in our stock. Details
Batching Plants
All batching plants are designed and manufactured for the construction industry which needs massive concrete volume.